Logicmall Ionic Ion Detox Machine Foot Bath Holiday Gift Cell Cleanse Negative Hydrogen System for Dual Users with Far Belts & Colored LCD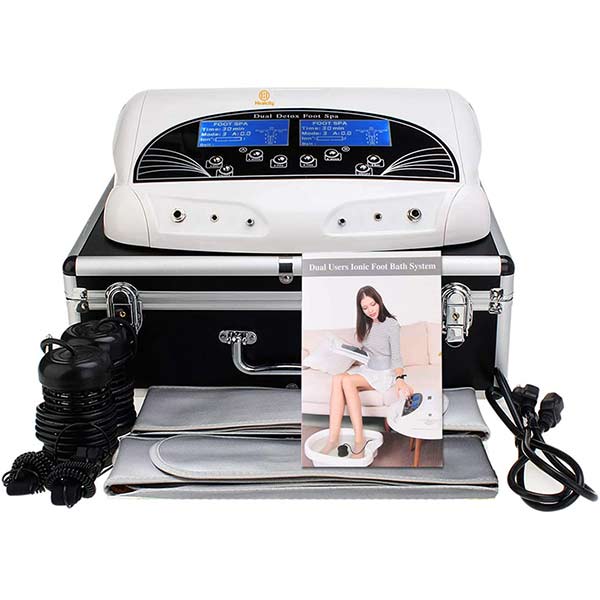 Before using this machine, be sure to read through the instruction manual.
What is the principle of foot bath detox machine?
Water is resolved into a large amount of energy ion through ion cleanse device (positive and negative), make internal cell vigor strengthen, promote various enzymes live. Improve the human body organ circulating function, accelerate metabolism, make the human body get well gradually. Improve ability of cleansing body. Relieve the burden of the body organ, Promote metabolism and blood circulation, Improve the sleep effectively.
HOW TO USE IT?
1. Pour the water into the tub, keep the water covers your ankles. Put about 0.7 Ounce salt into the water. Then mix them well.
2. Hook up the power cord to the main machine and press the switch.
3. Connect the ion array to the main machine and put the ion array into the water.
4. Connect the wrist strap to the main machine and tighten it on your wrist.(Note: Please put a drop of water at the paster of the wrist band before you tighten it)
5. Put your feet in the water and regulate the time of detoxification.
6. Adjust the ion purge time (increase, decrease), press the switch.
7. Hook up the waist belt to the main machine and wear it.
8. Press the belt button to begin the belt function.
PACKAGE INCLUDED:
1x Ion foot detox spa machine
1x Power cord
2x Wrist straps
2x Arrays
2x Far infrared bamboo charcoal waist belts
1x Carrying Case
2x Extra fuses
1x User manual
Keep Health by Using This Foot Bath Detox Machine
ION NATURE OF HUMAN BODY & ITS EFFECTS:
The way ionization works is a water molecule is composed of two hydrogen atoms and one oxygen atom. When the molecule loses a hydrogen atom, the remaining OH molecule takes on a negative charge. A healthy person should contain 80% negative electrons and 20% positive electrons. Because of poor diet and high stress, we tend to accumulate and store excessive quantities of waste products, such as diacetic, lactic, pyruvic, uric, carbonic, acetic, butyric, and hepatic acids.
Dual Users System
This Ionic Ion Detox Machine Foot Bath can work for 2 people at the same time, it is really a good have for a family.
It has two large LCD display screens (9x4.5cm) .
Please use it 2-3 times a week, after using 12 times, you will feel very clearly, very good sleep and full of energy.