Logicmall Ionic Detox Foot Bath Machine System Holiday Gift Negative Hydrogen With Far Infrared Belt, Two Ion Cleanse Arrays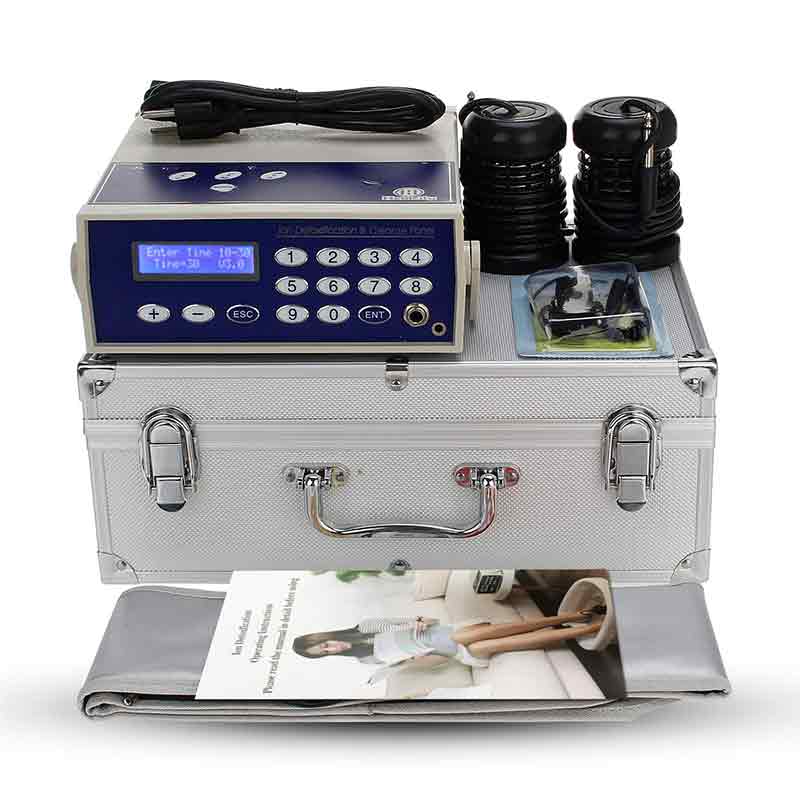 FAQ:
1.¡±add water¡±
A£ºIt is because you put too much salt. Replace water, clean the array, put 0.5-0.6OZ salt, make sure E is between 1.0-2.5A.
2.¡±Error or E=0¡±
A: a)Make sure tighten the wrist strap on£» b)Make sure the wrist strap is hooked firmly with the machine; c)Make sure both the array and your feet are in the water; d)Make sure the voltage is in the right position(see the picture in user manual).
3.water didn¡¯t change color
A: Do not use distilled water, just the warm tap water is ok. Put 0.5-0.6OZ salt in the water.
Before using this machine, be sure to read through the instruction manual.
How to use it?
1. Pour the water into the tub, keep the water covers your ankles. Put 0.5-0.7 Ounce salt into the water. Then mix them well.
2. Hook up the power cord to the main machine and press the switch.
3. Connect the ion array to the main machine and put the ion array into the water.
4. Connect the wrist strap to the main machine and tighten it on your wrist.(Note: Please put a drop of water at the paster of the wrist band before you tighten it)
5. Put your feet into water, press ENT to start, after you finished detoxing, press ESC, the machine will be OFF.
6. Connect the belt to the main machine and wears the belt.
7. Regulate the mode (L M H), then press the upper waist belt power button ON/OFF to begin the belt function.
Package included:
1 x Detox Foot Bath Machine
1 x Aluminum Travel Case
2 x Ion Arrays
1 x Power Cord
1 x Waist Belt
1 x Fir Wrist Strap
1 x Instruction
Note:The foot basin is NOT included the package!!! You need to buy it separately.