Logicmall Ionic Foot Bath Detox Machine Holiday Gift Negative Hydrogen System with Professional Tub Basin 10 Liners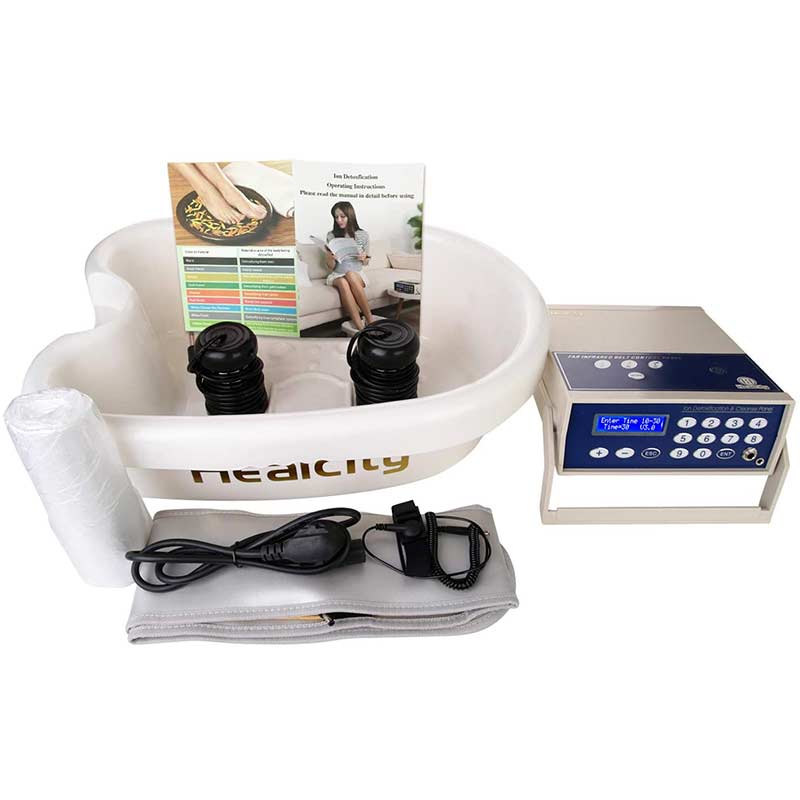 Ionic Foot Bath Detox Machine Negative Hydrogen System by Healcity with Professional Tub Basin 10 Liners Holiday Gift
Specification:
AC-DC power cord
Input Voltage: AC 110 / 220 V
Output Voltage: DC 15 V
Output Power: 24 W
Package included:
1 x Ionic Detox Foot Bath Machine
1 x Foot Tub
2 x Ion Arrays
1 x Power Cord
1 x Waist Belt
1 x Wrist Strap
1 x Instruction
10 x Liners
Wrist strap and waist belt are included
For this foot detox machine, you have to wear the wrist strap, or it will not work.
Before you wear the wrist strap, put some water or lotion on your wrist, it will prevent your skin from hurting due to the skin is too dry.
For the waist belt, after wear it , press the power button on the upper panel of the machine, then choose the mode of the belt (low / middle / high).
The belt improves the micro-circulation of the waist, promotes the circulation of the meridian, promotes the circulation of blood, causes the fat accumulation at the waist or leg and so on, and then decomposes the fat, lose weight and lean body, and function as body building body.
A professional foot tub basin is included
A professional foot tub basin is included, large size, deep enough, durable, it will be comfortable for your feet and it is big enough even though your feet is BIG.
This foot basin is designed for use with any ionic detox foot bath systems. Capacity is 3.2 gallons (12 liters). Tub dimension is 20" X 16" X 6".
The ergonomic handle around the entire perimeter makes basin easier to carry when full of water. Rounded plastic contours on bottom of basin provide foot massage function.